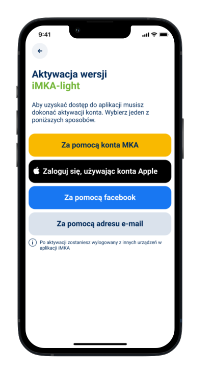 Activation of iMKA Lite
Using the services offered in iMKA requires its activation. The activation process is carried out directly in the application through your Apple, Google, Facebook, or email account. In the activated iMKA Lite application, you will have access to all services except periodic tickets and CICO.
How to authorize iMKA application
If you are a progressive person, new technologies are a common thing for you, and your smartphone is your personal management center, our iMKA is exactly for you! With it, your phone will be now not only a medium for transporting tickets, but also for all marvelous services offered by MKA. All of your mobile devices can be equipped with such features.
Go to page

How to authorize iMKA application